DRIED SLICED TOMATOES
100g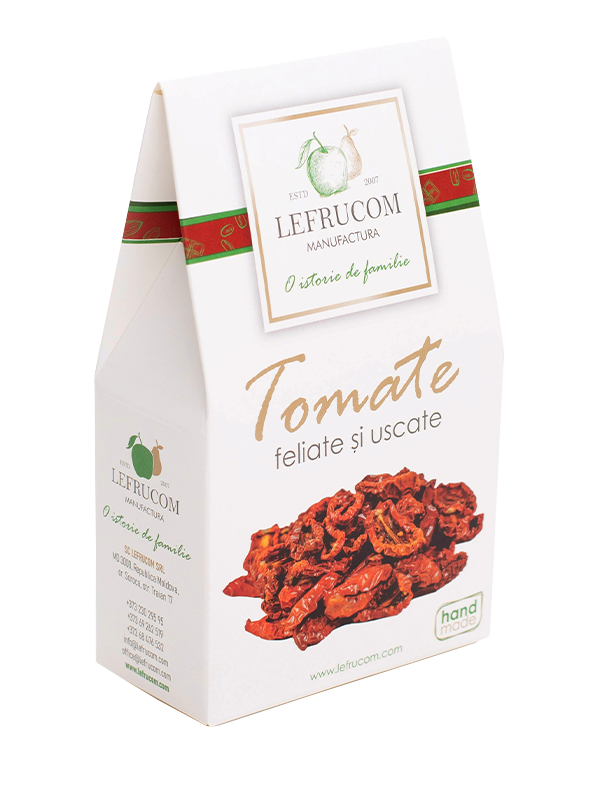 Dried sliced tomatoes are a popular and versatile ingredient that can add a burst of flavor to a wide range of dishes. These tomatoes are typically harvested at their peak ripeness and then sliced before being dried to remove most of their moisture content, resulting in a concentrated and intensely flavored product.
One of the main advantages of dried sliced tomatoes is their long shelf life. With their low moisture content, they can be stored for an extended period of time without spoiling, making them a convenient pantry staple. They are also lightweight and easy to transport, making them a great option for camping trips, hiking, or other outdoor activities where fresh produce may not be readily available.
COMPOSITION:  dried tomatoes
STORAGE CONDITIONS: temperature between 5..20°C
RELATIVE HUMIDITY: max. 70%
USE TO: look at the packaging
EXPIRATION DATE: 12 months
!ATTENTION: Some pieces of fruit may contain individual seeds or fragments of seeds.
Package (100 gr): EAN – 4841434000367 Price 30 MDL