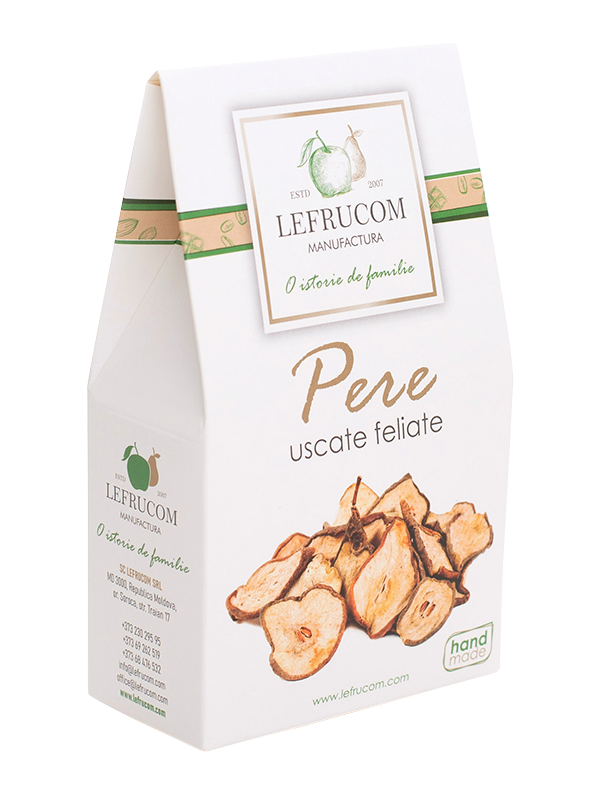 Dried sliced pears are a delicious and healthy snack option. They are made by removing water from fresh pears, which concentrates their flavor and nutrients.
Dried pears are rich in fiber, which can help improve digestion and control blood sugar levels. They are also a good source of vitamin C and potassium.
You can enjoy dried sliced pears as a snack at work or school, or add them to your breakfast cereal, yogurt, or smoothies. They can also be used in baking to add natural sweetness and texture.
Dried sliced pears have a long shelf life, so you can enjoy them for several months after purchase. They can also be a beneficial addition to your diet if you are watching your sugar intake or looking for healthy snack options.
COMPOSITION:  dried sliced pears, (antioxidant: sodium pyrosulphite (E223)
STORAGE CONDITIONS: temperature between 5..20°C
RELATIVE HUMIDITY: max. 70%
USE TO: look at the packaging
EXPIRATION DATE: 12 months
!ATTENTION: Some pieces of fruit may contain individual seeds or fragments of seeds.
Package (100 gr): EAN – 4841434000770 Price: 20 MDL