DRIED APPLE RINGS WITHOUT PEEL
DRIED APPLE RINGS WITHOUT PEEL
50g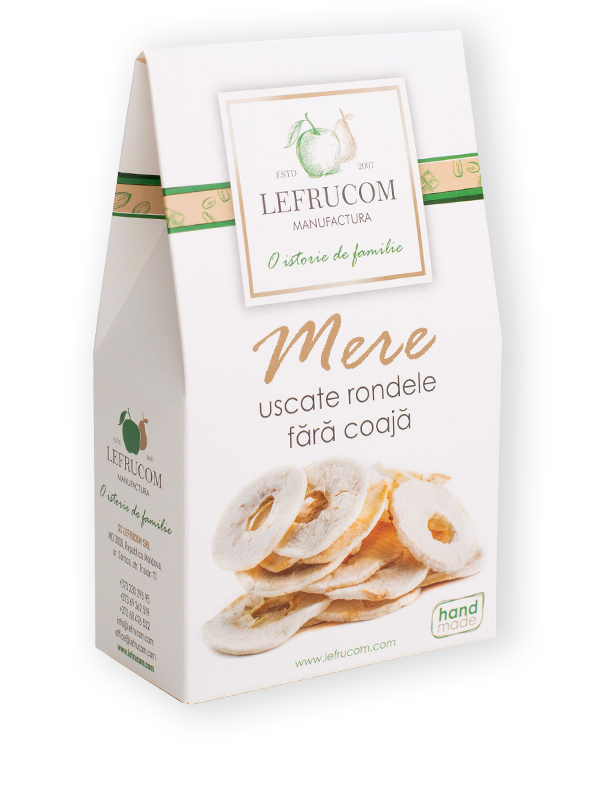 Dried apple is a tasty and nutritious snack that can be enjoyed any time of the day. This crispy and chewy fruit is made by dehydrating fresh apples, which removes the water content and concentrates the natural sugars and flavors. Dried apple is a great source of dietary fiber, vitamins, and antioxidants, making it a healthy alternative to sugary and processed snacks. It can be eaten on its own, added to oatmeal or yogurt, or used as a topping for salads or desserts. So next time you're looking for a quick and healthy snack, consider reaching for a bag of dried apple!
COMPOSITION: ring-cut apples, dried (antioxidant: sodium pyrosulphite (E223)
STORAGE CONDITIONS: temperature between 5..20°C
RELATIVE HUMIDITY: max. 70%
USE TO: look at the packaging
EXPIRATION DATE: 12 months
!ATTENTION: Some pieces of fruit may contain individual seeds or fragments of seeds.
Package (50 gr):  EAN – 4841434000794 Price: 20 MDL