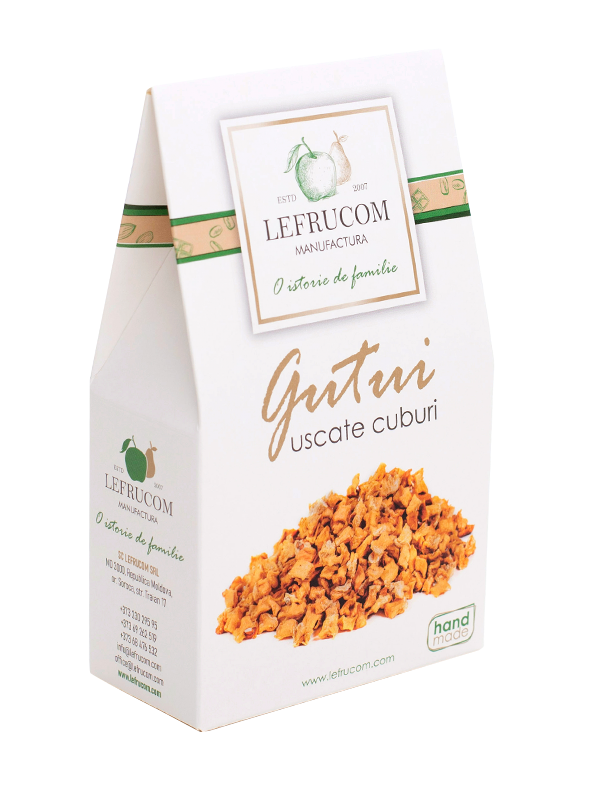 Dried quinces is a tasty and nutritious snack that can be enjoyed any time of the day.
The fruits are cleaned of stems and leaves and washed. The seeds are removed and the quince are cut into haives or slices, and after that the fruits are dried.
During the drying process, only the water is removed from the fruit, allowing the quince to retain all of their minerals and vitamins for long period of time without the use of prеservatives or additives. In this manner we produce and offer a fully natural product-guarantee for a healthy diet.
These dried fruits can be consumed as they are or added to various dishes such as salads, cakes, pastries, or even meat dishes. Dried quinces can also be transformed into a delicious drink by adding them to hot water and allowing them to infuse.
COMPOSITION:  dried diced quinces (antioxidant: sodium pyrosulphite (E223)
STORAGE CONDITIONS: temperature between 5..20°C
RELATIVE HUMIDITY: max. 70%
USE TO: look at the packaging
EXPIRATION DATE: 12 months
!ATTENTION: Some pieces of fruit may contain individual seeds or fragments of seeds.
Package (100 gr): EAN – 4841434000688 Price: 20 MDL